We're Going to the SHOW!
What does it take to build a new brand? Lots of tenacity, patience, luck, a sense of adventure ..... PLUS you have to get in front of people! When I realized that I would need to put myself in front of hundreds, if not thousands of people, I got a bit nervous. I'm very confident in my ability to design a high-quality product, to build a supply chain, etc. You know, all those things 'behind the scenes' things.

However, putting myself directly in front of people to sell something (even my own originally designed animal backpacks!!) was NOT in my comfort zone. But I knew that I needed to learn about what resonates with our customers and their children. The only way to figure that out was to get 'out there' in front of them.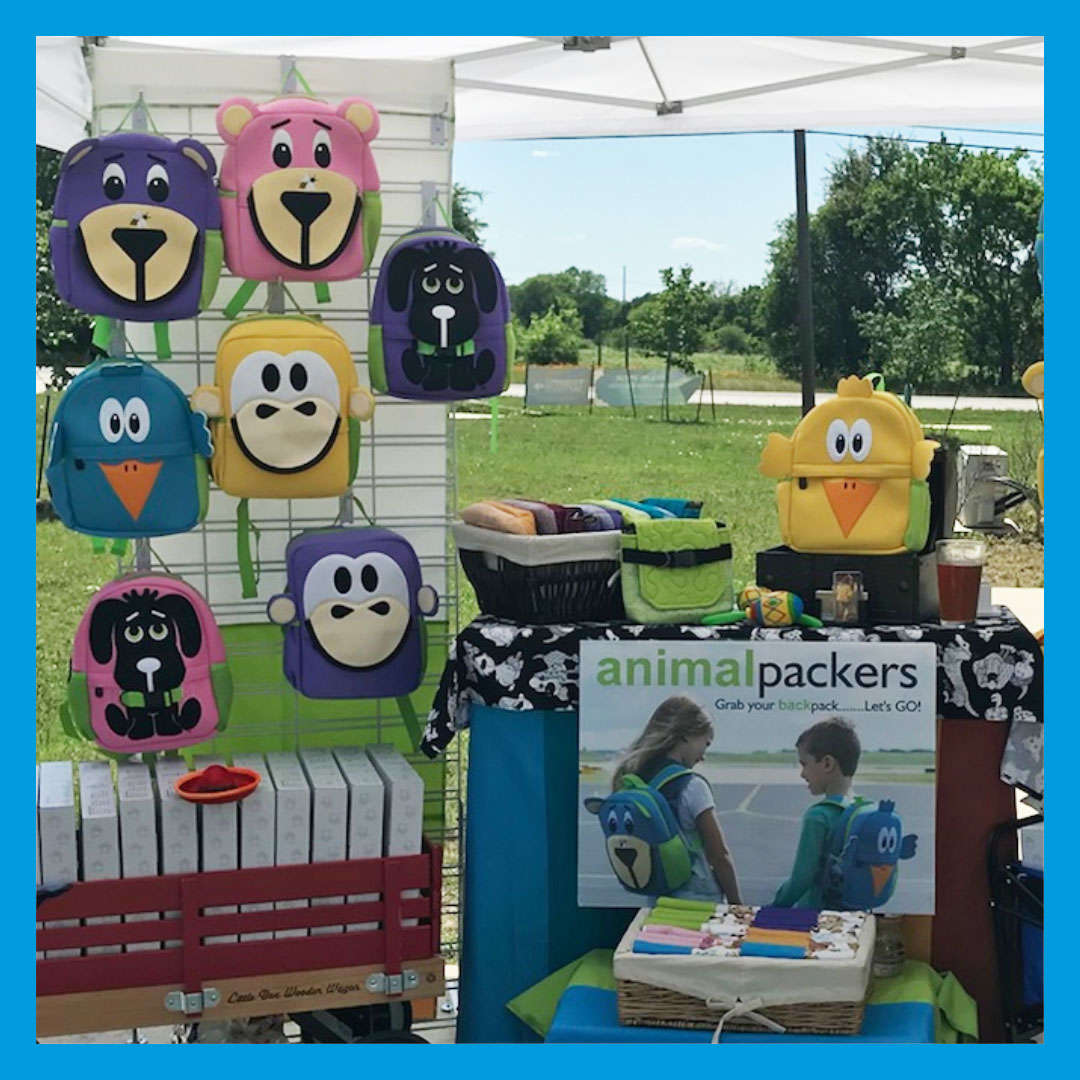 I started out at small Pop-Up events in the Austin area (Shout-out to Sonya Vargas and
Just Me Pop-Up
events. Sonya provided a way for me learn how to talk about my backpacks, learn the sales process and get more comfortable talking to customers. If you live in Austin, please support her events!)
Although not all Just Me venues were the right demographic fit, I knew that I needed to practice my 'pitch' and these events were the perfect places to do that. Plus, Sonya held many of her events at some the best Micro-Breweries in Austin. Truly a great way to get me feeling comfortable talking to people!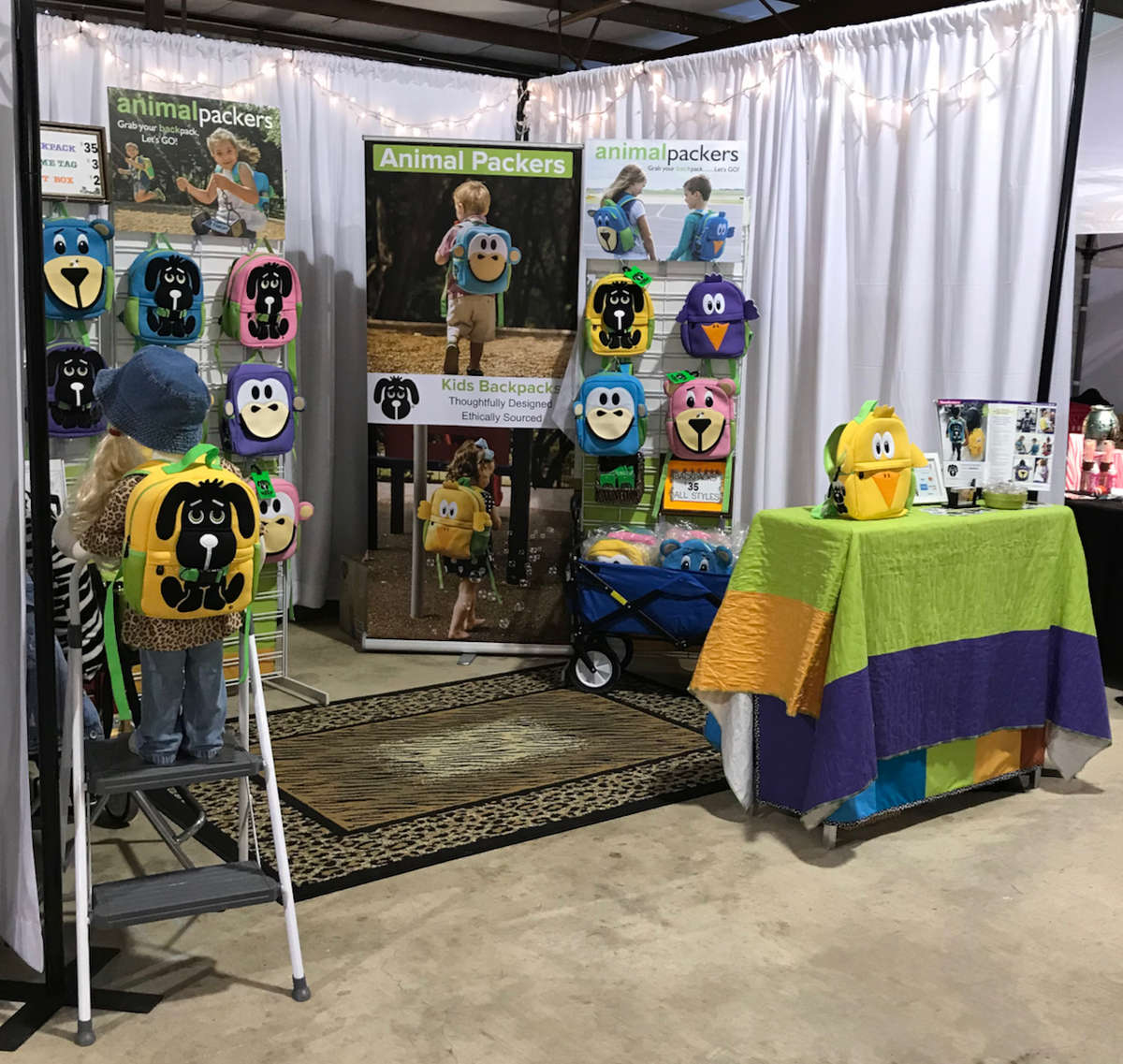 Next, came regional gift shows. I found a listing of all the consumer shows, craft shows and markets in my general area, and began to rent booth space. My wonderful husband wanted to share this experience with me, so we started going to shows together. Each time we attended a show, we had a different booth set-up as we figured out how to display the backpacks and how much inventory to bring. I always brought way too much, but I was learning.

The image shown is here is our VERY FIRST consumer show booth. We soon learned that standing on concrete for three 8-hour days is brutal on the feet. To save our feet, I bought an "Animal-Packers Green" portable floor, and now our feet do much better!
After attending several small consumer shows, we were ready for the Big(ger) Leagues. Our first big show was the Austin Junior League's "A Christmas Affair 2018" and I'm happy to say we knocked it out of the park! I hired a friend who is a great sales-woman, and she and I worked most of the show together. It was exhausting, but worth it! We soon figured out how to best showcase the brand, given the type of show we were attending. After almost a year of going to shows (and still building our online presence) we felt like we knew which were the best types of shows to attend. Let me tell you, this is STILL a learning curve for us!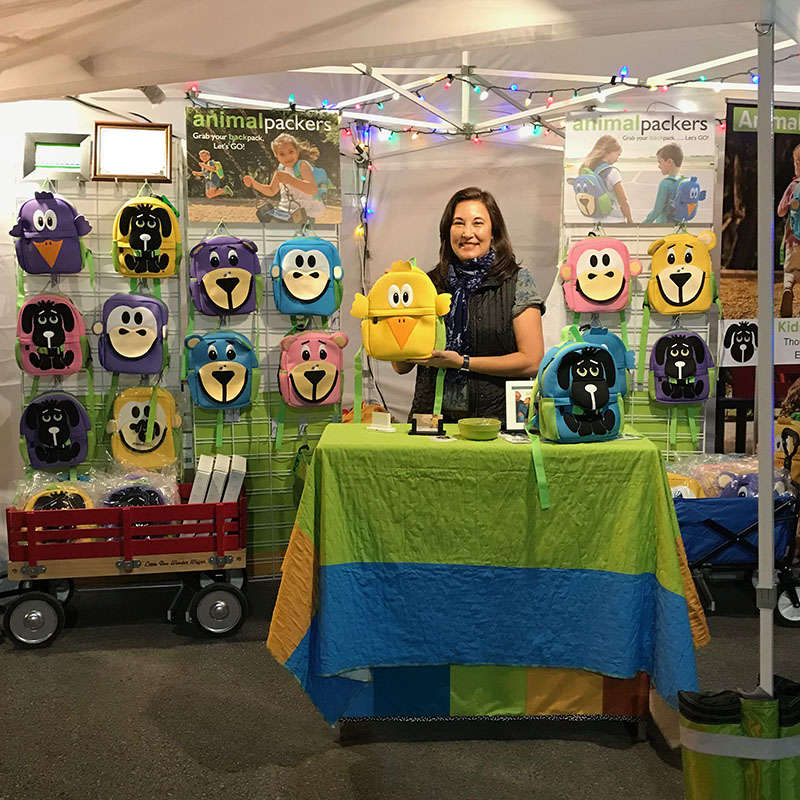 My friend Nanci came to help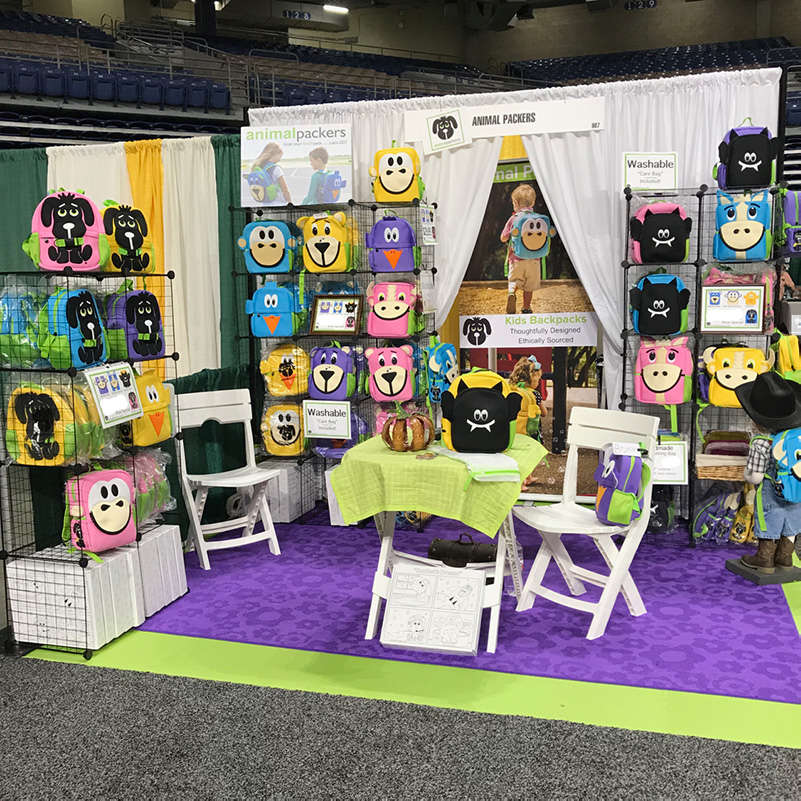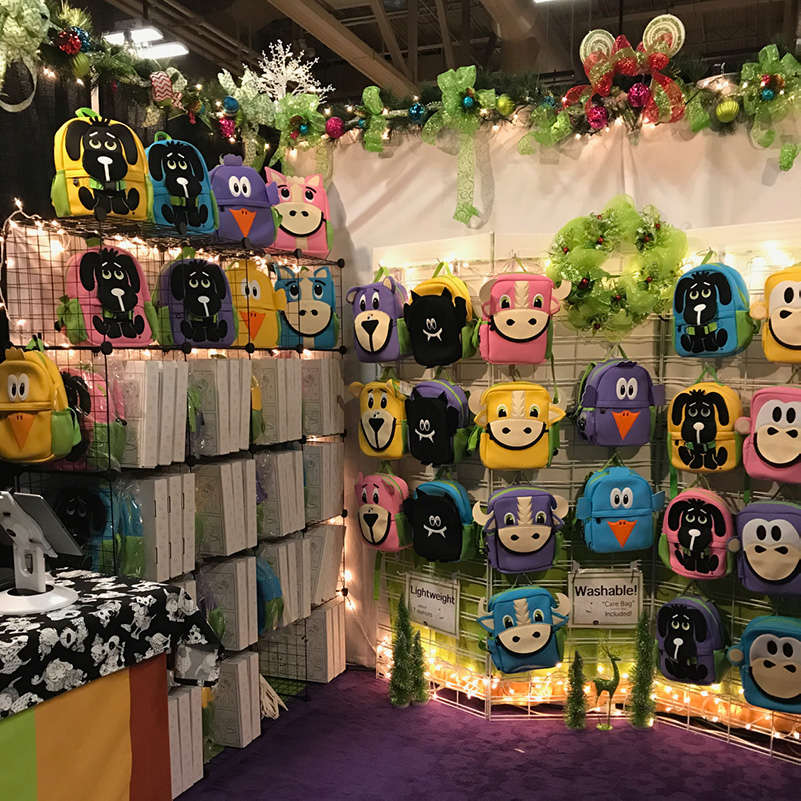 BEST show of the first year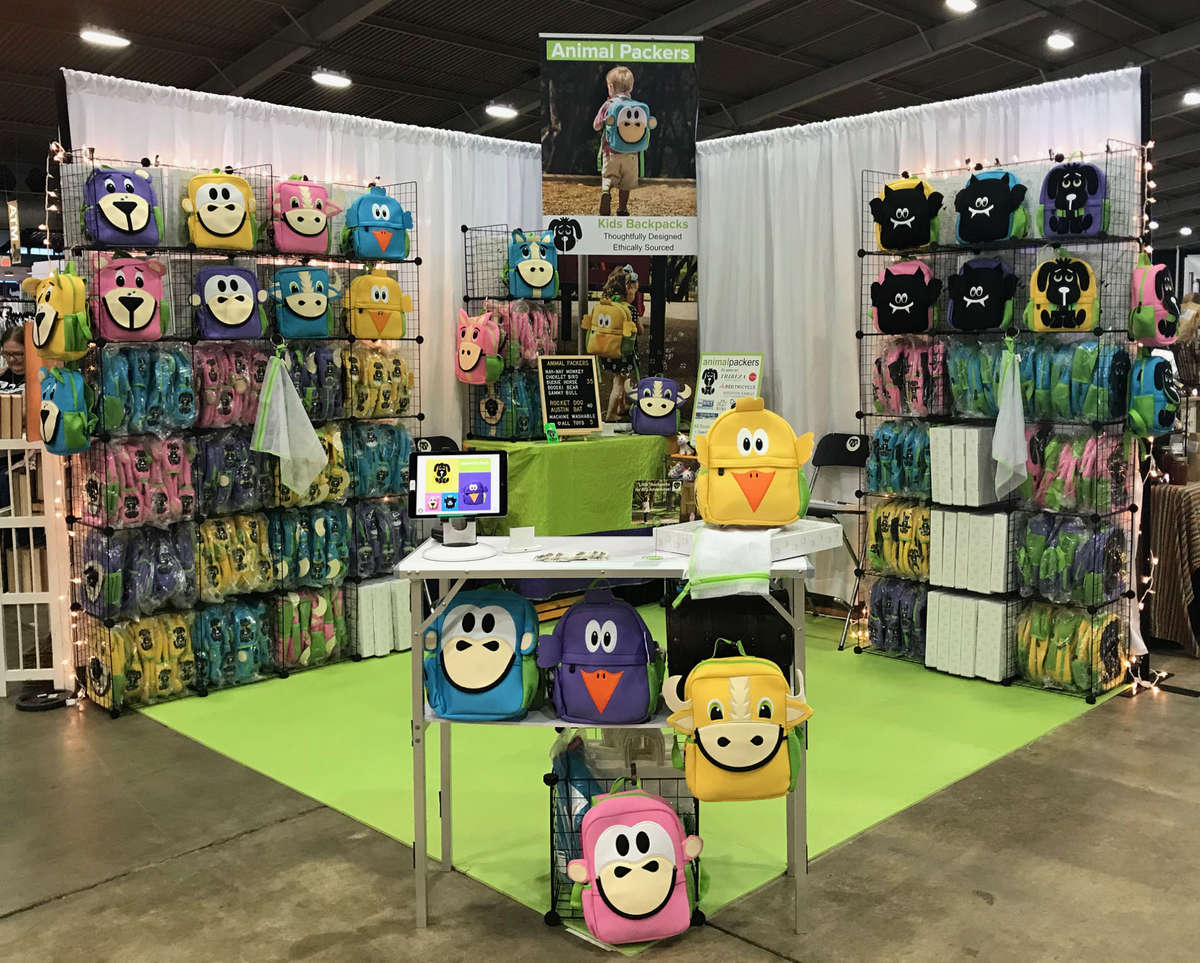 Tenacity pays off
Our most recent show, "An Affair of the Heart" in Tulsa, OK. was so much easier than the shows we did last summer! When I think about going from small regional Pop-ups to giant shows like "An Affair of the Heart," I'm overwhelmed at how far we've come.

The Tulsa show was by far my most comfortable. Not only did we really 'stream-line' our booth and better predict the inventory needs, I was super-comfortable talking about the brand and the features of the backpacks to all the nice folks in Tulsa.

I'm very thankful for all the experiences that have helped me gain confidence when talking about Animal Packers and the quality of our preschool backpacks. I'm proud of the Brand, and now, I'm not hesitant to show it!