Gracie, top right, was the most
loving dog I've ever known. This precious girl was there for me through
some really tough times and when she looked at me like this, she was showing me
that she understood, and that she loved me. She would come up to me and
actually put her paws around my neck and then place her forehead on my
chest!! She gave some wonderful doggie hugs, and WOW do I miss her!

Ruby, top left, is a charming little "Piddle-Monster" with the most
hilarious personality! Here, she's hoping I won't find her cuddled up on
the chair.

She KNOWS she's not supposed to be there,

......but with a face like THAT, who could be mad?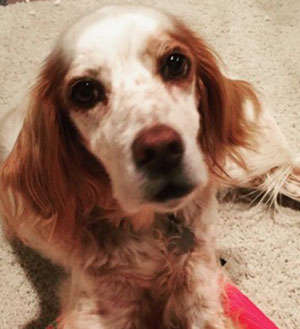 All Dog Lovers
KNOW this look!
When YOUR dog looks at you with this face, what do you think
she/he's trying to say?

This look communicates so much!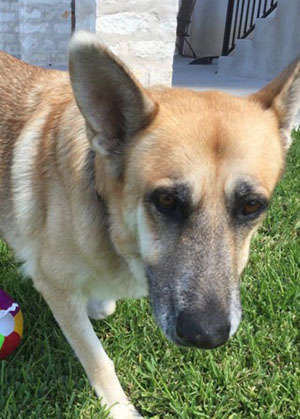 I've had dogs in my life for YEARS
In fact, they have become my muses.
So many of my designs and ideas are inspired by my sweet pets. The image for
the Animal Packers logo happened one morning when Blake looked at me
........LIKE THAT!

Blake was my hilariously sweet 'Escape Artist' and I miss her terribly!
Although she (yes, Blake was a girl) was a beautiful Orange Belton English
Setter, she was the inspiration for the black dog head logo. I looked at
her, drew the logo face, and that was THAT!

Ouzo, my current Girl, is a wonderfully loyal, beautifully gentle giant who is
the muse behind an up-coming brand (Hopefully sometime in 2018......Stay
tuned!)
Animal Packers is our brand of Children's backpacks.
We have other Brands that are still in the works, and we needed a Company Name
that encompassed all the Brands. So we came up with the name
"Cobalt Rocket, LLC."
(This name meant absolutely nothing when we came up with it, but it's been
interesting to see the name evolve as the company grows.)
My husband suggested we needed a name for the dog logo.
How about "Rocket?," he asked.
.....and there you go! "Rocket" it is!

Rocket is featured on all of our backpacks and is the MAIN image on one of
them. He is also prominently featured on our re-usable,
"color-able" shipping box!
We've also created a coloring book!
Please help yourself ...... and SHARE with your friends!
Download the Coloring Book!